All-Time Chill Team: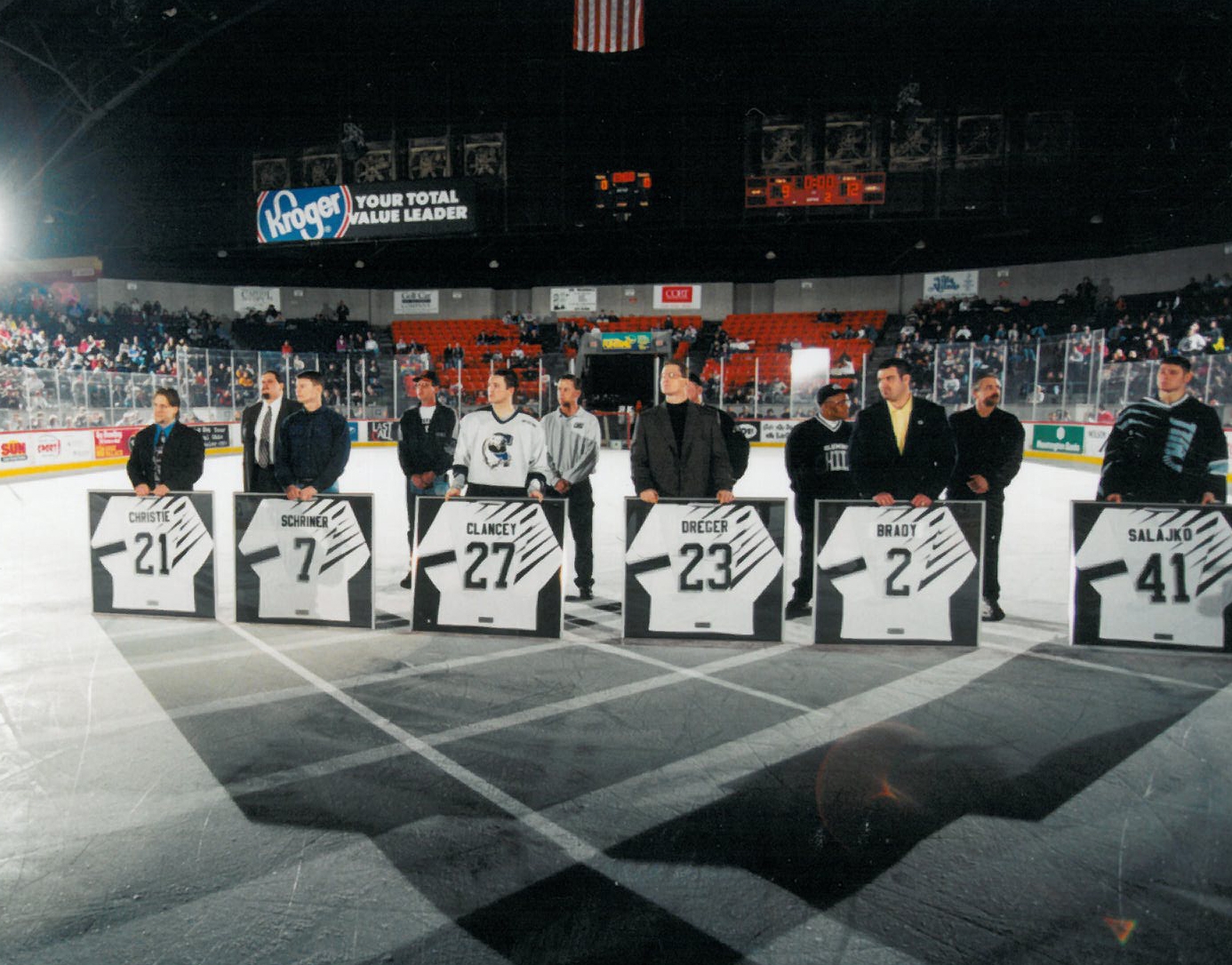 Barry Dreger (1991-93): Put up monster penalty minute numbers in his short time (1991-93) — 663 in 94 games (7.05 per game average) … Had 362 minutes in Chill's first season … Career Chill totals also included eight goals and 36 assists … Extensive IHL career as well …. Head Coach, Kennesaw State University in Kennesaw, GA, 20 miles north of Atlanta, since September 2010 … Previously assistant coach for the Columbus (GA) Cottonmouths of the Southern Professional Hockey League in 2008-09. Is the head coach and general manager of the New Jersey Rockets of the National Collegiate Development Conference, one of two tuition free junior hockey leagues in the U.S. He has been there since March of 2019 after nearly seven years as head coach of the Los Angeles Jr. Kings. Prior to that he was head coach at Kennesaw (Georgia) State University.
Derek Clancey (1993-97): Was inducted with the 2020 class into the ECHL Hall of Fame. He is the Chill career leader in points (313) and assists (218). He also added 95 goals in 221 games. In 1995-96, he had 109 points (32-77) in 67 games. Clancey also had 26 goals and 33 assists in only 46 games the next season… his jersey once auctioned off for more than $3,000 at a charity event. He is in his 13th season in the front office of the Pittsburgh Penguins, helping them win the Stanley Cup three times (2009, '13, 17). Clancey was the director of pro scouting from 2010 until being promoted to the Penguins' director of player personnel prior to the 2019-20 season.
Jason Christie (1991-93, 1998-99): "Smurf" was the most popular player event to don the Silver & Black … in 159 games he had 57 goals and 125 assists for 182 points while racking up 487 penalty minutes … The team's top point producer in the inaugural 1991-92 season — 84 points (28 goals, 56 assists) along with 218 PIMs in 61 games. Second captain after Jason Taylor … Returned for Chill's final season (themed: Last Call) in 1998-99 and had 37 points (9 goals, 28 assists) in 35 games … Moved on to coaching after his playing career with great success. Christie is the ECHL's all-time leader in regular season victories with 633 following previous stints with the Peoria Rivermen (2000-2005), Utah Grizzlies (2005-2008), Ontario Reign (2011-2015) and Tulsa Oilers (2015-2017). "Smurf" was voted the 2010-11 Central Hockey League Coach of the Year after guiding Bloomington (Illinois) to a 32–27–7 record.
Jeff Salajko (1996-99):  "Sal" played 126 games over three seasons and was 74-37-11 with five shutouts. .. In 1996-97 he was 35-14-4 in helping the Chill become the first Columbus pro hockey team to win a division title… Outstanding in the playoff series vs. the Toledo Storm… Also had three assists and 40 penalty minutes in Chill career… In his post playing career, Salajko has been the goaltender coach for the Detroit Red Wings since May 2016. He previously spent three seasons with the Red Wings' American Hockey League affiliate as the goaltending development coach for the Grand Rapids Griffins. "Sal" was an assistant coach for the Ohio State men's hockey team from 2008-11 before joining the Ohio AAA Blue Jackets for one season. He was the goalie coach for the Ohio State women's team for a season prior to his Grand Rapids stint.
Lance Brady (1993-95): Had 11 goals and 47 assists for 58 points and 281 penalty minutes in 122 games… In 1993-94 he had 27 points (5-22), 130 PIMs and a +21 in 56 games. The next season he collected 31 points (5-26) in 66 games with 151 penalty minutes… True leader on the ice and in the locker room… Played at Holy Cross before joining Chill…Senior Project Manager at Microsoft in Greater Boston area… Was the head hockey coach at Assumption College in Worcester, Massachusetts for 10 seasons before beginning his first season as director of hockey operations for Merrimack College in the fall of 2018. He passed away on Feb. 5, 2019, at age 48 after battling cancer. The Northeast-10 Conference named its men's hockey coach of the year award after the "Duke" and the players' lounge at his alma mater (Holy Cross) is named for him as well.
Phil Crowe (1991-92): An original Chill, made a name for himself at the first training camp in Indianapolis with an infamous toe-to-toe scrap with Al Novakowski … Crowe played 32 games for the Chill and had 11 points (4-7) and 145 penalty minutes … went on to play 94 games in the NHL (four goals, five assists and 173 PIMS) with Los Angeles, Philadelphia, Ottawa and Nashville .. lives in Windsor, Colo. Today, is the co-owner Total Directional, which provides directional drilling services to oil and gas producers. He is based in Windsor, Colorado, about 60 miles north of Denver, where he is the vice president of sales and marketing.
Rob Schriner (1992-96, 1998-99): Had 174 points (91 goals, 83 assists) and 192 penalty minutes in 239 games with the Chill … The former Ohio State Buckeye scored 26 points in 1992-93 and 29 the next season … Returned to Chill in final season of 1998-99 to play five games, scoring twice, before retiring … Came out of retirement to play a game for Cincinnati (ECHL) in January 2012, marking the longest stint between playing appearances for a pro hockey player, a feat covered by The Hockey News. … Today, is an assistant general manager at the Chiller ice rinks in central Ohio.