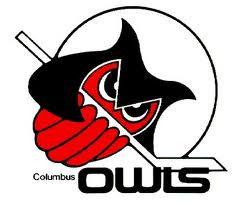 Columbus Owls, 1973-77
The Columbus Owls became the third franchise to try to make a go of hockey in Central Ohio. Owner Al Savill kept Moe Bartoli in place as head coach of the International Hockey League franchise. Bartoli secured an affiliation with the St. Louis Blues and stocked the franchise with physical blue collar style players including Steve Lyons, Mike Thompson and Bill Bond. The retooled Owls totaled 2,437 penalty minutes in 1973-74.
The next season the Owls had success, finishing second (40-32-4, 84 pts) in their division. The team relied on its defense, led by Columbus native goaltender Bill Yeo. However, playoff games were shifted to Troy, Ohio due to event conflicts at the Coliseum. With no home ice advantage the Owls bowed out after reaching the semifinals.
Savill next made a major league investment, becoming owner of the Pittsburgh Penguins for two seasons beginning in 1975.
The Owls finished the 1975-76 a disappointing 24-44-7 (56 pts) failing to qualify for the postseason. It was Bartoli's last season as coach, but he continued as the franchise's general manager. Ron Ullyot took over as the team's head coach.
Ullyot led the revitalized Owls to a second place finish (35-30-11, 81 pts) in 1976-77. Unfortunately, it wasn't enough to save hockey in Columbus. Savill, frustrated by the fact that the Coliseum was again unavailable for the playoffs and by the fact there was no plan by the Fairgrounds to fix the situation, elected to move the Owls to Dayton.
Hockey would go dormant for 14 years, until the arrival of the East Coast Hockey League Columbus Chill in 1991.